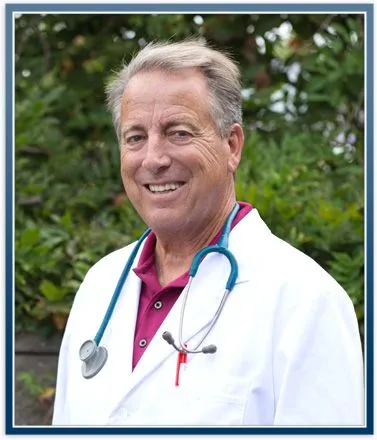 Stephen J. Batich, DVM, Owner
Veterinarian Growing up in Roselle Park, New Jersey, Dr. Stephen J. Batich always had a reverence for animals. It was an accident suffered by his childhood Irish Setter Holly, however, that really motivated him to pursue a career in veterinary medicine. He describes watching her "come out of shock and regain full consciousness under the care and treatment of a local veterinarian" after being hit by a car as the pivotal moment that made him appreciate the vital role veterinarians play in the care and well-being of animals.
His commitment to this role continues to motivate him today. When asked what he finds most satisfying about being a veterinarian, Dr. Batich says, "Being able to serve people and their pets with compassion and honesty. Presenting facts and options to pet owners and helping them make proper decisions. Also, I enjoy being able to extend the quality of pets' lives and to educate owners on early warning signs regarding their pets' health."
Dr. Batich graduated from Montclair State University in 1969 with a bachelor's degree in biology and chemistry. After college, he taught science in public school for five years before entering veterinary school. From there, he went on to the University of Parma in Italy, where he earned his Doctor of Veterinary Medicine. Dr. Batich is a member of New Jersey Veterinary Medical Association and his professional interests include dermatology, internal medicine, wound care, and dental care.
Dr. Batich and his wife Rita are parents to four grown children and two dogs, Archer, a black male Labrador retriever, and Genevieve, a yellow female Labrador retriever. When not devoting his time to the care of animals at Shark River Veterinary Hospital, he enjoys spending time with his family, including his three "beautiful, strong, expressive, and smart granddaughters," as well as surf fishing, biking, and golfing.
---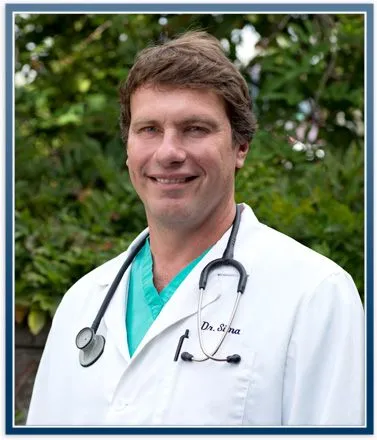 Marko Sima, VMD

Veterinarian Dr. Marko Sima joined Shark River Veterinary Hospital in June 2005. A native of Vineland, New Jersey, he grew up helping care for animals at his father's veterinary practice, which was attached to their family home. "I grew up in a veterinary hospital and have been around animals all my life," he said. "They were always family members."
Dr. Sima earned his bachelor's degree in animal bioscience from Pennsylvania State University and his Veterinariae Medicinae Doctoris from the University of Pennsylvania School of Veterinary Medicine. He is a member of the New Jersey Veterinary Medical Association and the American Veterinary Medical Association. His professional interests include surgery, emergency medicine, and dentistry.
Dr. Sima shares his home with his wife, Dr. Dina Rovere, who is also a veterinarian, their three sons, three chinchillas, and two golden retrievers, Marmalade and Mallomar. In his spare time he enjoys being with his family, playing soccer, surfing, ice hockey, mountain biking, and the beach.